What are the different types of FANTA sold in Japan?
What are the differences between FANTA in the world and FANTA in Japan?
In this article, we will introduce the FANTA sold in Japan.
FANTA is a popular soda drink in Japan!
Fanta from the world-famous Coca-Cola Company is a famous soda drink in Japan.
Japan's Fanta has also released many original series that are different from the rest of the world, such as those that use Japanese fruits.
All articles linked from this site are written in Japanese.
Regular FANTA
Japanese FANTA Lemon is a lemon flavored FANTA with a well-balanced taste of moderate sweetness and sourness.
Japanese FANTA melon is a refreshing tasting melon soda made with pure water and no preservatives.
The melon flavor is light, and you can enjoy the smell of the melon and the green contents of the Fanta.
Japanese FANTA Orange is a refreshing orange-flavored carbonated beverage containing vitamin C.
No synthetic colors or flavors are used.
Japanese FANTA Grape is a very popular beverage.
It has a light grape flavor and a strong carbonation, which gives it a sweet and sour taste.
Japanese FANTA Apple is an excellent balanced apple soda with mellow apple flavor, sourness and strong carbonation.
Even without juice, you can taste the apple in this soda.
FANTA PREMIER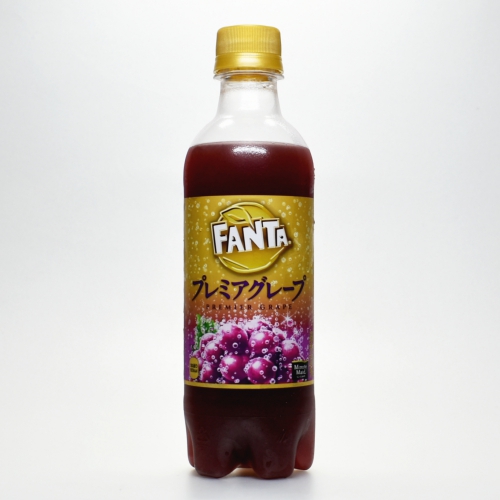 Japanese FANTA Premier Grape is a Fanta that smells similar to red wine.
It has a strong red grape flavor, and it's a flavor that people like and dislike in different ways.
Japanese FANTA Premier Orange is a drink for adults made with a new process using orange pulp and orange peel.
The orange flavor is intense and the drink has a delicious balance of sweetness and acidity.
Japanese FANTA Premier Peach is an orange soda for adults made with 13% white peach puree and white & yellow peach juice.
No synthetic coloring, pure water.
It has a rich peach flavor, a thick puree texture, and a slight carbonation for an elegant taste.
JAPANESE FANTA PREMIER LEMON is less sweet than most lemon sodas and much stronger in sourness and lemon flavor, making it the most refreshing Fanta brand ever.
Tastes almost like the Italian soda "Limonata," all strong and dark!
FANTA PREMIER PEAR is a mild pear flavored microcarbonated beverage with a sweet taste.
Despite its 16% fruit juice content, the pear flavor is not intense, and this Fanta has a delicate taste and throat-quenching sensation that expresses the peculiarities and bitterness of pears.
FANTA PREMIER MELTY PEACH is a darker taste that evokes a blend of white & yellow peaches, and even the peaches' peel-like bitterness and astringency are realistic.
The slight carbonation blends with a thickening sensation, making it an elegant peach soda for adults without being cheesy.
The dark peach flavor penetrates the tongue to the aftertaste, and the peach flavor is so sticky that it clings to the inside of the mouth.
It is not bad, but the peach taste is a little persistent.
This is not the kind of peach soda that you would enjoy guzzling, but a Fanta for adults that makes relaxing time a little more luxurious!
Translated with www.DeepL.com/Translator (free version)
FANTA LEMON PREMIER has a fresh aroma that makes you feel as if you have just squeezed a whole lemon on the spot.
The sweetness is moderately sour with a strong lemon flavor, and the richness and flavor of the fruit is deeply expressed.
JAPANESE FANTA LEMON Premier Pink Grapefruit is a very dark lemon and grapefruit flavor, with a strong acidity and no citrus fruit fibers as a texture.
It is a juicy taste with a hint of Italian soda!
FANTA LEMON PREMIER HONEY is a honey lemon soda that is both lemon and honey flavored, both rich and sour, and strong and dark in every way.
This is a real honey lemon that tastes different from regular Fanta, and the higher price is understandable!
FANTA Delicious Flavors of the World
FANTA Mystery Blue tastes like a blend of kiwi and pear.
Tastes similar to Fanta LULO.
FANTA Mystery Sweets tastes like a carbonated beverage with the flavor of an apple tart, with a weak acidity.
The artificial sweetener sweetness is unpleasant, and while the drink is fun to taste-test, it cannot be rated as delicious.
Japanese FANTA SOCATA is an elderflower flavored drink.
It has a lemon scent, a bit of muscat, and a flowery scent.
The taste of FANTA SOCATA is lemon tartness, sweetness and strong carbonation, a unique flavored drink.
Japanese FANTA LULO is a drink flavored with LULO, a popular fruit in Colombia.
It is a fruit punch with a kiwi base.
FANTA Greedy MIX
Japanese FANTA Pink Grapefruit is a drink that supports your health with citric acid and vitamin C.
This FATNA is less acidic and has a lighter grapefruit taste.
Japanese FANTA Mix Berry is a fruitless drink with raspberry, blueberry and strawberry flavors.
It tastes like a blend of blueberry and blackcurrant.
Japanese FANTA Lychee & Salt is a drink that contains B vitamins (pantothenic acid/niacin) to help prevent heat stroke.
Overall, the drink has a light taste, little salt taste, and a very nice lychee flavor.
Japanese FANTA Yogurt Banana is a FANTA health support drink that contains dietary fiber and vitamin B6.
This FANTA drink has a moderate yogurt taste and a banana aroma and flavor.
FANTA Luxury W
Japanese FANTA White Peach & Yellow Peach is a drink that expresses the deep richness of peaches by blending white and yellow peaches.
This FANTA is made from peach fruit and peach puree with less than 10% juice.
It is a very tasty FANTA drink with an elegant taste and luxurious use of two kinds of peaches.
Japanese FANTA Carbene & Chardonnay is a non-alcoholic FANTA that combines the juice of Cabernet, a red wine grape variety, and Chardonnay, a white wine grape variety.
It is a delicious FANTA that resembles the taste of red wine, with a slight astringency and the sweetness of white grapes carefully blended together.
FANTA Double Plus
Japanese FANTA Yogurt Tropical is a yogurt flavored FANTA drink that contains B vitamins and lactic acid bacteria.
It has a light yogurt taste and a sports drink taste.
Japanese FANTA Golden Apple & Power is an apple-flavored FANTA drink that contains B vitamins (pantothenic acid and niacin), royal jelly, and ginseng.
The apple taste is not very apparent.
Japanese FANTA Pineapple GABA is a pineapple flavored FANTA drink containing B vitamins (pantothenic acid and niacin) and GABA ingredients.
It is a delicious drink with a very strong pineapple flavor FANTA.
Japanese FANTA Mango Charge is a mango flavored FANTA drink that contains B vitamins (pantothenic acid and niacin) and iron.
It is a bittersweet mango flavored FANTA.
Limited FANTA
FANTA Sweetie tastes like a blend of grapefruit, capsicum, and Pocari Sweat.
It is a carbonated beverage with a peculiar taste and aroma that can be liked or disliked.
Fanta Bright Iyokan +vitamin C is a carbonated beverage with a strong aroma and taste of Iyokan, even without juice.
It has a sweet and sour taste, and the carbonation is strong and stimulating, making it ideal for refreshing yourself between studies.
Fanta More Bright Iyokan +vitamin C is a Fanta with UP carbonation of Bright Iyokan released in 2022.
FANTA Shain Muscat is a delicious carbonated drink that expresses the realistic aroma and taste of Shain Muscat without any juice.
The overall taste is strong and refreshing, just like Fanta! It is highly satisfying.
FANTA white peach is a carbonated beverage that has the taste of white peaches even without juice.
It has a gorgeous taste that is typical of Fanta!
The only thing I don't like about it is that it comes in a small 410ml PET bottle, which I feel is rather expensive.
Japanese Fanta Golden Kiwi + Salt is a kiwifruit-flavored Fanta that was released only in the summer season in Japan.
The strong carbonation with less sweetness and more sourness will refresh you in the hot Japanese summer.
Japanese FANTA Plum is a summer-only FANTA drink that contains citric acid in Plum.
It tastes like a plum wine soda and is non-alcoholic.
Japanese FANTA Yogurt Rush is a lactic carbonated FANTA drink that contains 10 billion shield lactic acid bacteria based on white grape flavor.
It tastes like a carbonated version of the popular Indian drink "Lassi" and is very tasty.
Fanta Yogurt Rush White peach & Yellow peach is a sweet and sour yogurt flavor and a double peach flavor with a slightly carbonated taste, similar to Calpis soda.
The taste is quite different from the regular Fanta Yogurt Rush.
Fanta Yogurt Rush GRAPE & MUSCAT is a grape & muscat flavored micro carbonated drink with a yogurt flavor base.
Overall, this Fanta has a strong flavor and is sweet and sour.
Fanta Yogurt Rush Mild Strawberry has a gentle yogurt aroma when opened, and when tasted, the flavor is reminiscent of mango lassi followed by a strawberry taste.
The taste is interesting with a mild and smooth mouthfeel, but with a stimulating carbonation. The yogurt and milk flavors are strongly expressed and slightly cloying.
Fanta Yogurt Rush melon mix is an interesting combination of sweet and sour milky yogurt flavor with a fluffy melon that gives it a kiwi yogurt-like taste!
Japanese FANTA Iyokan is a FANTA drink that contains Japanese citrus Iyokan flavor blended with yogurt flavor and lactic acid bacteria DHA.
It tastes like a diluted version of Fanta Orange, with a lighter yogurt flavor.
Japanese FANTA Passionate Bright Red Orange is a drink that was released in time for the Halloween season in Japan.
It is a bittersweet blood orange flavored FANTA drink.
Japanese FANTA Fanta Peach for adults is a limited-time FANTA drink made with peach juice and peach puree.
It is non-alcoholic.
Fanta Parlor Cream Soda is a lightly sweet and sour carbonated beverage with a melon flavor, similar to a creamy soda with a hint of carbonation. It recreates the nostalgic cream soda flavor that was commonly enjoyed in Japanese cafes during the 1980s, with a strong creamy sensation.
FANTA Carbonated Jelly
Japanese FANTA Passionate Bright Red Orange Jelly is a carbonated jelly drink with blood orange flavor.
Shake the bottle before opening and drinking.
Japanese FANTA Mango Jelly is a mango-flavored carbonated jelly drink.
When shaken before drinking and opened, the contents turn into a carbonated jelly.
Introducing FANTA on a Japanese Website
In addition to the Japanese FANTA introduced here on this page, we have also introduced a variety of other carbonated beverages.
All other articles are in Japanese, so please refer to Google Translate for each website.